You may offer the best mechanic work in town, but you won't get any customers if no one knows about it. That's why auto repair SEO is so powerful. It can help you build an online presence and drive more qualified leads to your business.
Not sure what SEO is or how to get started? Don't worry; we've got you covered.
Here are eleven tips for automotive SEO to help you grow your small business.
What is Automotive SEO?
Let's define a few things before we get into the strategies you can implement for your business.
SEO stands for search engine optimization, and it involves optimizing your website and other digital content to appear higher in the search engine rankings organically.
Unlike paid advertising, like Google Ads or Facebook Ads, SEO uses tactics to help you get more free and long-term visibility.
Automotive SEO is the specific type of SEO that relates to automotive businesses like yours! It focuses on creating high-quality content to highlight your expert skills and services to drive qualified traffic.
So, for example, when someone searches "brake pad replacement near me" or "tire shops Colorado Springs," YOUR business is the first to appear in the search engine results.
Other common search queries your target audience is searching include:
auto shop near me
best auto repair shops in Colorado Springs
truck repair near me
affordable auto repair
automatic transmission shop
best auto mechanics Denver
Depending on what your auto repair business offers, the overarching goal of SEO is to get your company's website and other digital content to appear near the top of the search engine rankings when searches happen.
Why is Car Repair SEO Beneficial For Small Businesses?
Think about your dream car: the brand, the color, and the beautiful interior. Now imagine if your dream car also had a measly engine, a max of 70 horsepower, and a broken transmission.
As good as it looks, it's not going to get you very far!
That's precisely how your auto repair small business is without SEO. You may look good from afar, but if you don't have a strong driving force behind your business, you won't be able to reach your goals.
When your website ranks on the number one page of Google, Bing, or other search engines for search queries that your business offers, there will be many more interested customers looking for mechanic services from YOU.
Some of the other benefits of SEO for auto shops include:
Increased visibility online
Improved brand recognition
Generate more qualified leads
Drive sales and conversions
Build brand trust
Boost your bottom line
11 Tips for Auto Repair SEO to GROW Your Small Business
Now that we have a better understanding of SEO and its benefits, let's dive into our eleven tips for automotive SEO.
One thing you should remember before reading these tips is that SEO is a continual process. To maintain your search engine rankings, you must invest time and energy into creating content, optimizing your website, and tracking your progress.
That being said, here are eleven tips to get you started:
SEO Tip 1: Research Your Target Audience
You may have insane car skills and a passion for auto repair, but that won't help you grow your business if you don't know your target audience. If you're like many auto repair small business owners, you're also probably a mechanic who is ready to take a step back from the tools and get into the driver's seat.
But before jumping into anything else, take the time to understand who your ideal customers are by researching their demographics, interests, and behaviors.
Fortunately, a lot of people own a car. Unfortunately, you also have a ton of competition, so narrowing your target audience will help you tailor your automotive SEO strategies and grow in the right direction.
Here are some questions you can start with:
What age group most commonly buys your car repair services?
Where do your target customers live?
What's their income (surely that'll affect the type of cars they drive and how much they spend on repairs)?
What interests and hobbies do they have?
What tone will this audience respond to the best (professional, approachable, luxury)?
SEO Tip 2: Find Your Keywords
Now that you know who your target audience is, the next step is to identify which auto repair keywords they are likely to use when searching for car repair services.
You want to use keywords that are as specific as possible. Generic terms such as "auto repair" or "mechanic" will have the highest competition, so it's best to focus on keywords with less competition that are more specific to your location and services.
For example, you might target automotive keywords like "auto repair shop Denver" or "best auto mechanics Boulder."
You can use keyword research tools to help you identify keyword phrases that have a high search volume but low competition. This is a great way to start ranking for phrases that bring in qualified leads.
Also, consider the services you offer and include these terms in your keyword research. For example, if you offer brake repair services, you can target keywords such as "brake repair near me" or "brake replacement Colorado Springs."
Additionally, remember that the keywords you use should be relevant to your target audience and related to the services you offer. By optimizing your content for your target audience with relevant keywords, you will increase organic traffic and be more visible in search engine results.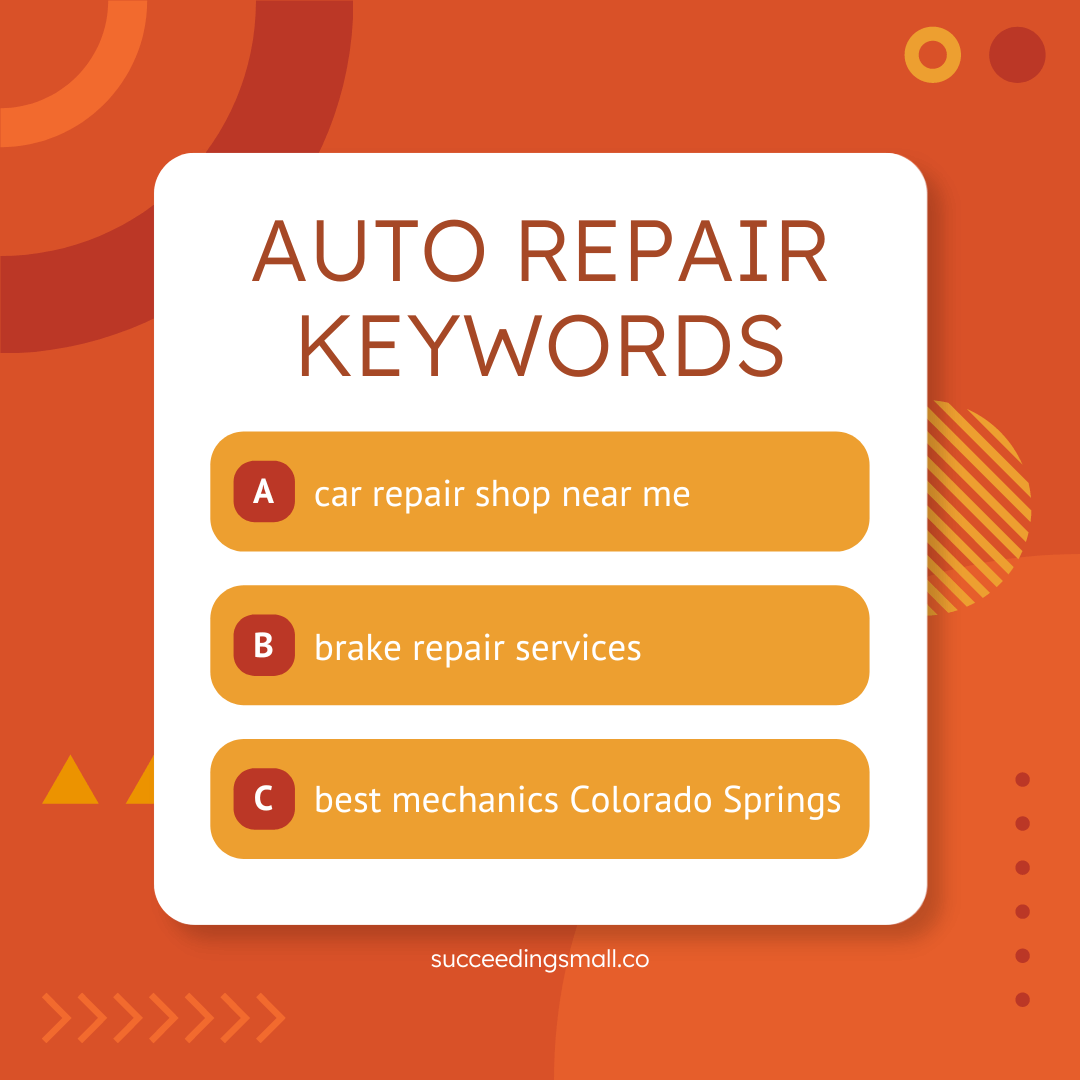 Be Aware of the Different Types of Keywords
Not all keywords are created equal. Depending on the search intent, there are different types of keywords that you should focus on.
For example, if someone is looking for car repair services because they need repair ASAP, they will use more "buying keywords," such as "brake repair near me."
On the other hand, "informational keywords" or queries with research intent may not result in a purchase (at least not right away). These would be keywords like "how to change my oil" or "best car repair shops in Colorado Springs."
Understanding the different types of keywords is vital for optimizing your content to reach the right audience and rank higher in search results.
SEO Tip 3: Hone in on Local SEO
Local SEO is essential for small businesses, especially those that offer services in a specific geographical area. For example, you want to make sure you're easily found when people search for car repair services near them.
One way to ensure you're first in the search results is by utilizing local SEO. Local SEO follows the same definition of SEO above but with an added focus on location.
So, for example, if you're writing a page on your website about "brake repair services," you should also include terms like "Denver brake repair" if you're located in Denver.
Other local SEO techniques include adding your business address to your website, creating content related to the location (local events and attractions), and claiming your Google Business Profile. These steps will help you rank higher in local search results and gain more visibility for potential customers in your area.
SEO Tip 4: Claim Your Google Business Profile
So, we just mentioned that a good tip for local SEO is to claim your Google Business Profile. Let's talk more about that.
Doing so is one of the best ways to ensure that you're visible in local searches and appear in Google's "Local Map Pack," a list of businesses that appear at the top of search results when someone types in a query with location-specific keywords.
When you claim your Google Business Profile, make sure you complete all the required fields and add as much information about your business as possible. This includes adding photos, hours of operation, contact information, a link to your website, and more.
Google also allows you to respond to reviews and answer customer questions, which can help you build trust with potential customers. This is a great indicator in Google's eyes that your business is active and trustworthy, which can help you rank higher.
By optimizing your Google Business Profile for local SEO, you can make sure you're visible in multiple places at once. Not only will your auto repair shop show up in the Local Map Pack, but your website will also be in Google's top blue links.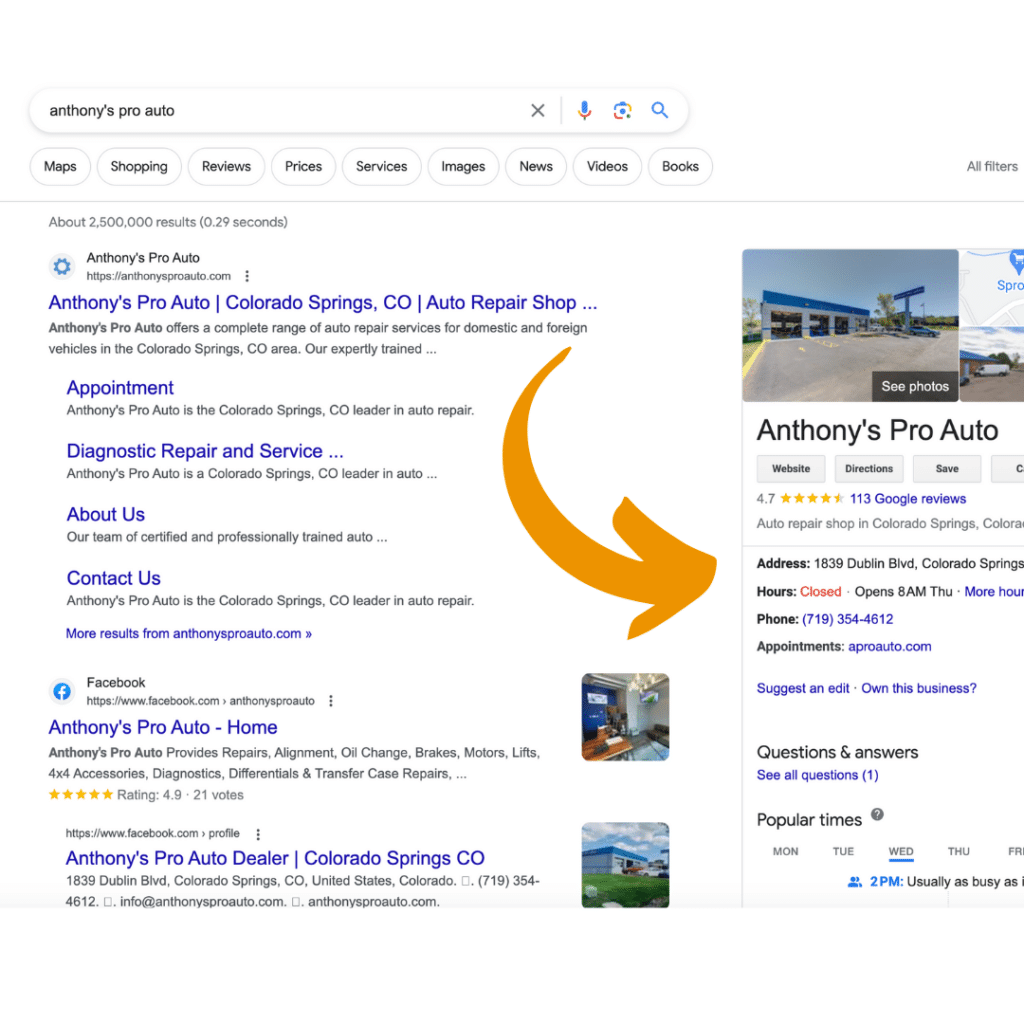 SEO Tip 5: Incorporate Your Keywords Strategically
So, you've identified your target audience, you have your keywords, and you've claimed your Google Business Profile. Now it's time to incorporate these keywords into your content.
This is where SEO can become more of an art form, as you must strategically place these words throughout your website and other marketing materials.
When adding keywords to your website pages, blog posts, and Google Business Profile, make sure they fit naturally within the text. Don't just stuff a bunch of keywords in without any context or purpose — this will actually hurt your rankings.
Instead, use them in titles, headers, subheaders, meta descriptions, body copy, and image names.
By incorporating keywords into your website and other marketing materials, you can ensure that you're reaching the right people with the right message and gaining visibility in organic search results for a greater reach.
SEO Tip 6: Publish Content Regularly
Another SEO tip we're going to discuss is content creation. Google loves fresh content and rewards websites that are regularly publishing new information.
The best way to do this is by creating a blog on your website that you can update with new posts at least once a week. For example, for auto repair shops, topics could include "how-tos" for performing basic car maintenance tasks or reviews of the latest cars from major brands.
Not only will these posts help you rank higher in organic searches because you're reinforcing your website's keywords, but they will also establish your shop as an authority in the industry and serve as valuable resources for potential customers.
So next time you think about ways to improve your online visibility and presence, don't forget about content creation!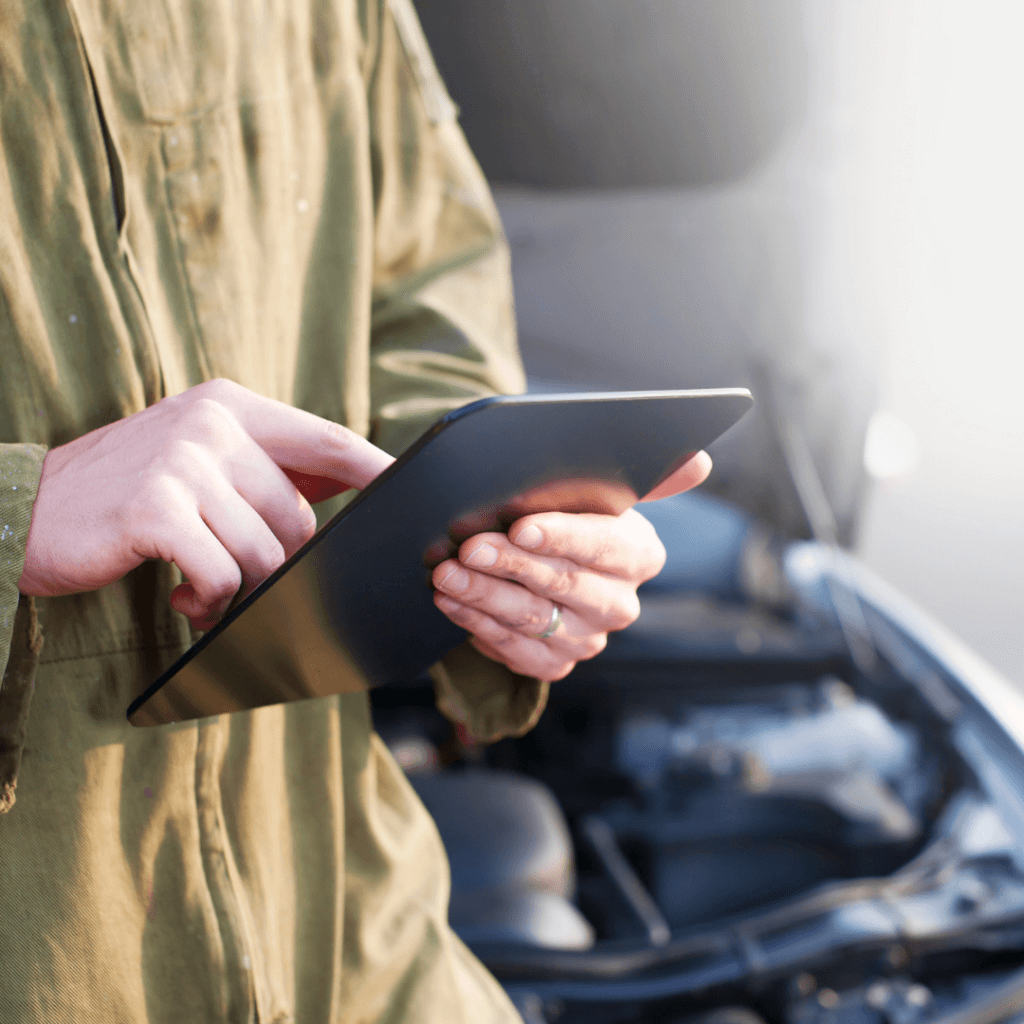 SEO Tip 7: Ensure NAP Listing Accuracy
Your shop's NAP stands for "name, address, phone number," and it's one of the most crucial rankings signals that Google looks for when determining where your business should appear in local search results.
We also forgot to mention one thing above about local SEO…
Google's Local Map Pack uses a different series of rank signals to determine which listings appear at the top. Google only displays businesses within your proximity (if you have your location on).
After all, what help would it be to Colorado searchers if they Google "car repair shops near me" and get locations based in New Jersey?
That's why ensuring your NAP information is accurate and consistent across all platforms is essential for local SEO success. For example, Google will use your business name, address, and phone number information to determine if your business is trustworthy and proximate enough to display to a user.
If you have inconsistent NAP information across the internet, Google will say, "We're not so sure if they're legit," and display one of your competitors instead.
Take the time to audit your NAP on major directories, such as your Google Business Profile, Yelp, Bing Places for Business, Facebook page, and other guides. Ensure all the information is correct, including your contact information, hours, address, and business categories.
SEO Tip 8: Get as Many Reviews as Possible
Not only do search engines care about reviews, but so do your potential customers. According to a 2021 study by Power Reviews, 99.9% of customers read reviews when shopping online.
Getting reviews gives your business credibility and builds trust with potential customers. Plus, Google also uses reviews as a ranking factor, so the more positive, relevant reviews you have, the higher you will be displayed in search results.
You can encourage customers to leave reviews by setting up an email or SMS review campaign after their service. Of course, don't forget to respond to them either — good and bad!
Getting reviews is an essential part of any SEO strategy. Here are some tips for getting more reviews:
Ask customers to review your business after they have had a positive experience.
Send follow-up emails asking them to leave a review if they haven't already.
Respond positively and professionally to negative reviews.
Utilize a review widget on your website so it's easy for customers to leave a review.
Send a text with a link to leave a review after customers get their car fixed.
Ensure you have a presence on all major review sites, such as Google, Yelp, and Facebook.
Leverage reviews by displaying them prominently on your website.
These are just some of the ways that you can get more reviews for your car repair shop.
It is essential to make it easy and incentivize customers to leave a review when they have had a positive experience. This will help your business stand out and ultimately increase organic search visibility.
SEO Tip 9: Leverage Local Link Building
Link building is significant for local businesses that need to ensure they are getting the most out of their online presence and visibility.
Getting links from local websites can significantly impact your rankings in local search results. Local link building involves obtaining links from local websites and businesses in your area.
This could include local directories, news outlets, bloggers, or other related businesses in your industry or niche.
Link building is a fantastic SEO tactic because you get credibility and offer potential customers more ways to find your business.
When you are trying to build links for local SEO, here are a few tips to help you:
Submit your business to local directories.
Write guest blog posts for local websites.
Participate in local events or charity drives.
Send a press release when you have updates or news about your car repair shop.
Engage in online conversations via social media, forums, and blogs related to auto repair.
Write guest posts on related topics for other websites in your niche.
Create content relevant to the local community and share it with local influencers.
Partner with other local businesses to create backlinks through mutual promotion, such as car dealerships.
By leveraging local link-building tactics, you can improve the credibility and visibility of your website while also improving rankings in organic search results.
This will help more customers find your car repair shop organically when they search locally, which means more foot traffic and revenue for your business!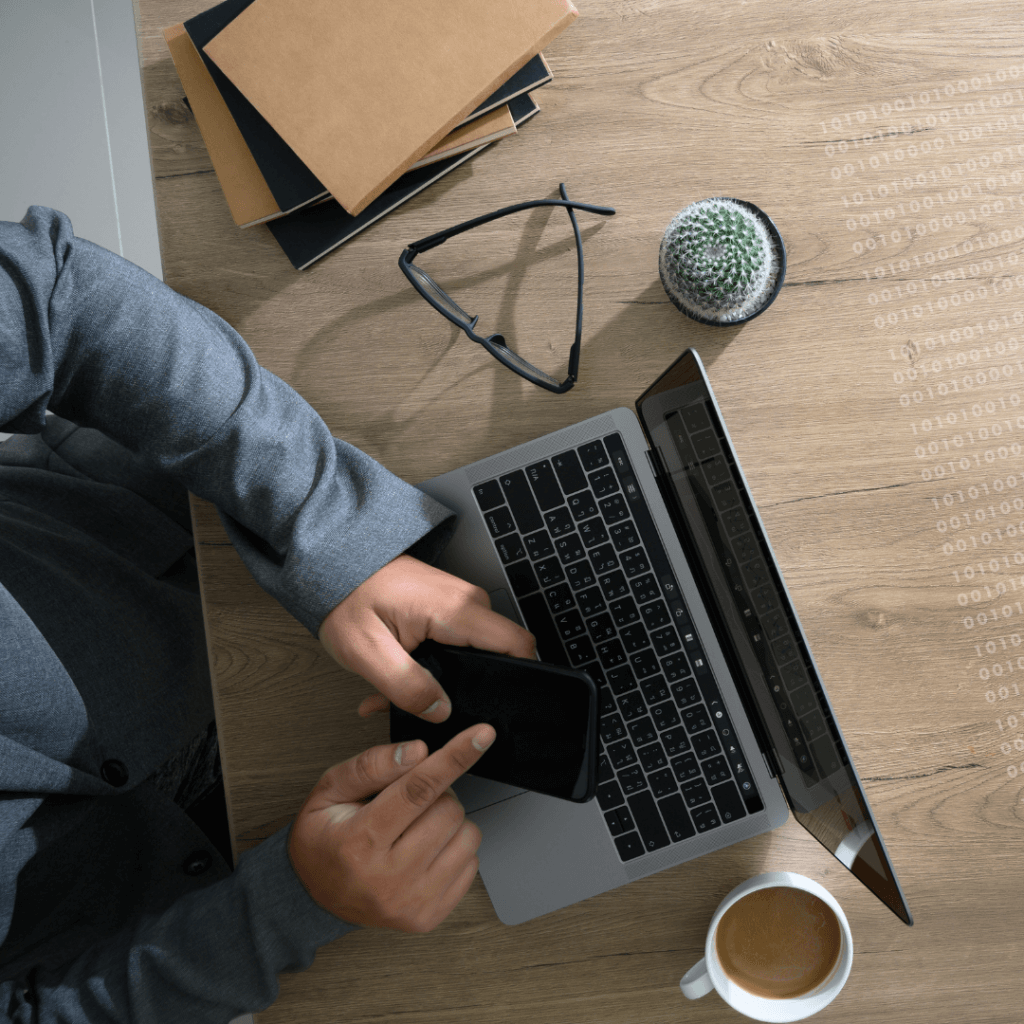 SEO Tip 10: Optimize Your Site's User Experience
User experience (UX) plays a huge role in SEO success. Your website should be easy to navigate, mobile-friendly, and have relevant content visitors find interesting and useful.
Focus on creating an intuitive navigation structure for your website, ensuring all pages are easily found and accessible from the homepage. Additionally, you should optimize your website's page speed to ensure a smooth user experience.
You can also use videos or interactive elements to engage users with your content and keep them on the page longer. This will help boost engagement metrics such as time on page and reduce bounce rate, which can positively affect SEO rankings.
Finally, make sure that your website is optimized for mobile devices since more than 50% of all web traffic comes from mobile devices. This will not only have a positive impact on user experience but also help you rank higher in mobile search results, as Google now prioritizes mobile-friendly websites.
By optimizing your website's UX, you can create better user experiences for visitors and ensure that you are taking advantage of all available opportunities to increase your rankings in organic search results.
SEO Tip 11: Monitor Your SEO Strategy
The last step in effective SEO is to monitor and measure the success of your strategy. This can be done by studying analytics reports such as page views, organic search traffic, and conversions from search engines.
You should also keep an eye on the competition by researching their rankings for keywords relevant to your business. Keep track of their tactics, changes in web page content or design, and any other factors that may affect their ranking.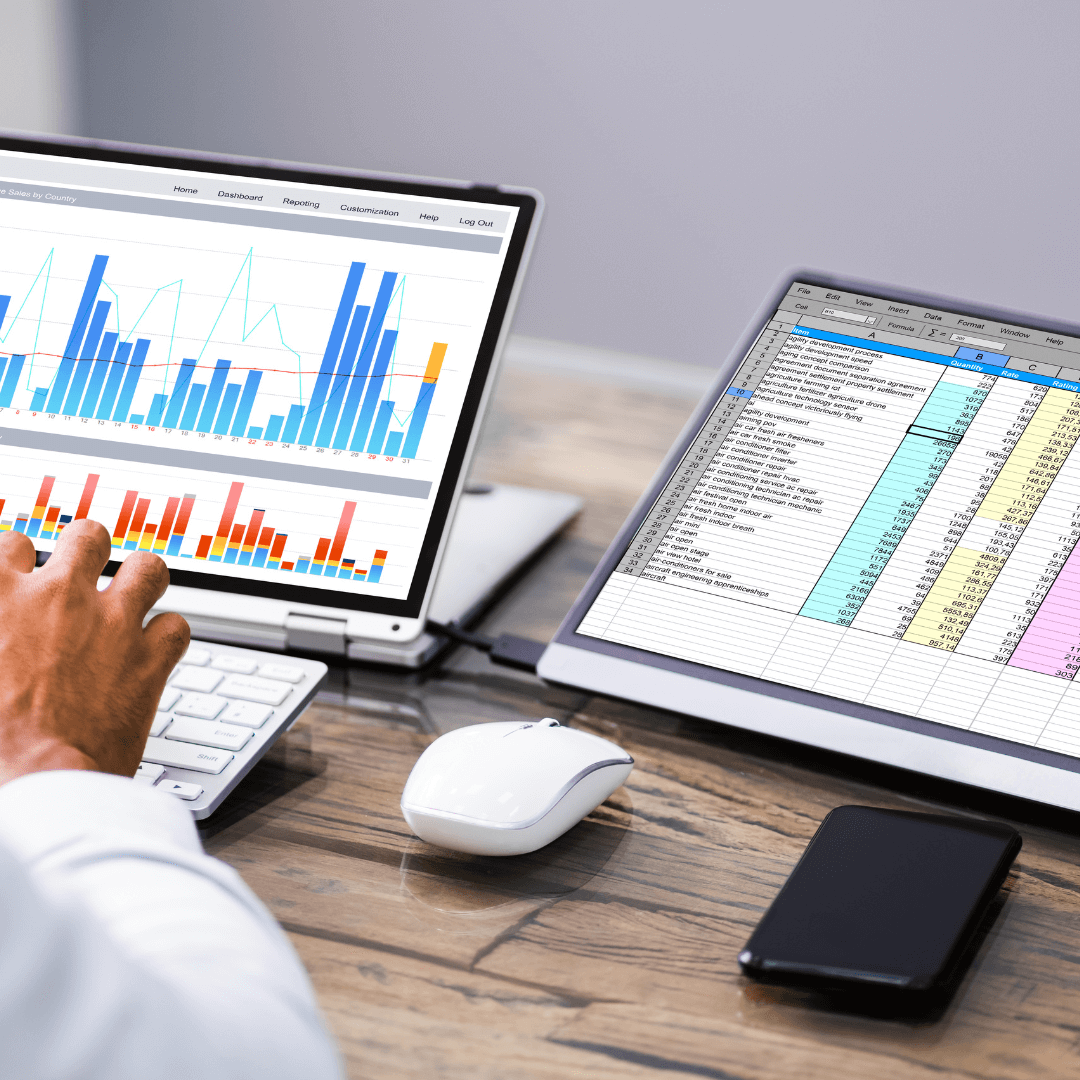 Finally, it's crucial to stay up-to-date with the latest developments in SEO so you can adjust your approach when necessary. Making sure that your car repair shop's website is optimized for search engines will help you gain more organic traffic, increased visibility, and more customers.
Get Small Business SEO For Your Auto Repair Shop
By following these SEO tips, you can ensure that your car repair shop stands out from the competition and is able to maximize its organic search visibility. With a bit of patience and dedication, you can see great results from your SEO efforts!
If you're looking for expert help with SEO, consider working with an SEO company specializing in small business marketing! At Succeeding Small, we offer a range of search engine optimization services for small businesses at competitive prices. We've worked with auto repair shops across Colorado to gain them the digital visibility they need to drive more customers their way. Schedule a consultation with our team to get started.