Even if you know absolutely nothing about digital marketing, you'll agree that your home improvement company needs visibility to survive. You need to be seen by potential customers who are looking for the services you offer.
Maybe most of your customers come into your showroom through word of mouth or referrals from other satisfied customers. But as your business grows, word of mouth may not be enough as you look to hire new contractors, buy another work truck or two, and expand your remodeling services.
This is where SEO comes in handy. Search engine optimization (SEO) ensures that your construction company appears at the top of search results when potential customers search for home renovation services in your local area.
SEO for Home Improvement Companies: Tips & Tricks
Search engine optimization refers to the process of optimizing your digital assets so they are more visible to your potential customers. Here are 11 simple SEO tips to help you get more digital visibility for your home improvement company:
1. Select the right home improvement keywords for your business
Choosing appropriate keywords for your business is essential to create an effective SEO plan. You should aim for keywords related to your target audience, have a decent amount of searches, and indicate a likelihood of making a purchase.
For example, "basement contractors Colorado Springs" or "kitchen remodel companies near me" are common keywords that your potential customers are searching for.
It's important to be thorough as you conduct your keyword research. Be warned that it's a bit time-consuming but well worth it. You can use tools like Semrush or Keywords Everywhere to collect your keywords as you go.
We love recommending Keywords Everywhere for SEO beginners because it's easy to install on your browser and is credit-based.
With these tools, you can also identify their search volume to see how competitive they might be. For example, the keyword "construction companies" will have a lot higher search volume than the keyword "best construction companies."
Additionally, long-tail keywords like "top construction companies Denver" will be even less competitive, increasing your chances of ranking higher on Google's search engines.
It's crucial to note that you don't want to select keywords with hardly any traffic. It's a fine line between selecting highly competitive keywords with enough search volume from your target audience.
Finally, be selective about your keywords to ensure that they align with a customer's intention to purchase. For example, people searching for "affordable general contractors near me" are more likely to buy than those searching for "home remodelers" on Google.
2. Optimize your content for SEO
Once you've identified the best keywords for your business, you'll want to optimize your website for SEO by putting those keywords to work.
Start by ensuring each page on your site contains relevant content with accompanying keywords. Optimize your homepage, services page, contact page, about page, and any other relevant pages with your identified keywords.
Make sure to include those home improvement keywords in the titles, headings, subheadings, and body copy but be careful not to keyword stuff. This can actually hurt your SEO rank rather than help.
For example, let's say you're optimizing your bathroom remodeling services page to be more visible on Google. Your title could be something along the lines of "Get the Best Bathroom Remodeling in Denver."
In the body copy, make sure to include words related to your service, like "bathroom remodel," "bathroom renovation," and other relevant keywords.
Including keywords like the above is beneficial because it will signal to customers what services you offer and signal to Google that your page is a reliable source for information about bathroom remodeling, therefore, boosting your website's rankings in search results.
3. Don't forget about website speed
Not only do search engines care about the content on your website, but they also care about how quickly your website loads.
Did you know that Google uses website speed as a ranking factor? That means the slower your website takes to load, the lower your likelihood of appearing high in search results.
That's why it's essential to ensure your website loads quickly and efficiently. If your website has a slow loading speed, it will affect your user experience.
And potential customers don't want to wait around for your website to load. They want information quickly and easily, and studies on user experience confirm this!
If your website is slow to load due to pictures and videos, even if it is visually attractive and has good content, Google will not rank it, and users are unlikely to stick around.
First and foremost, make sure to take a baseline speed test to see where you're starting. We like a few options, including GTmetrix and Google PageSpeed Insights.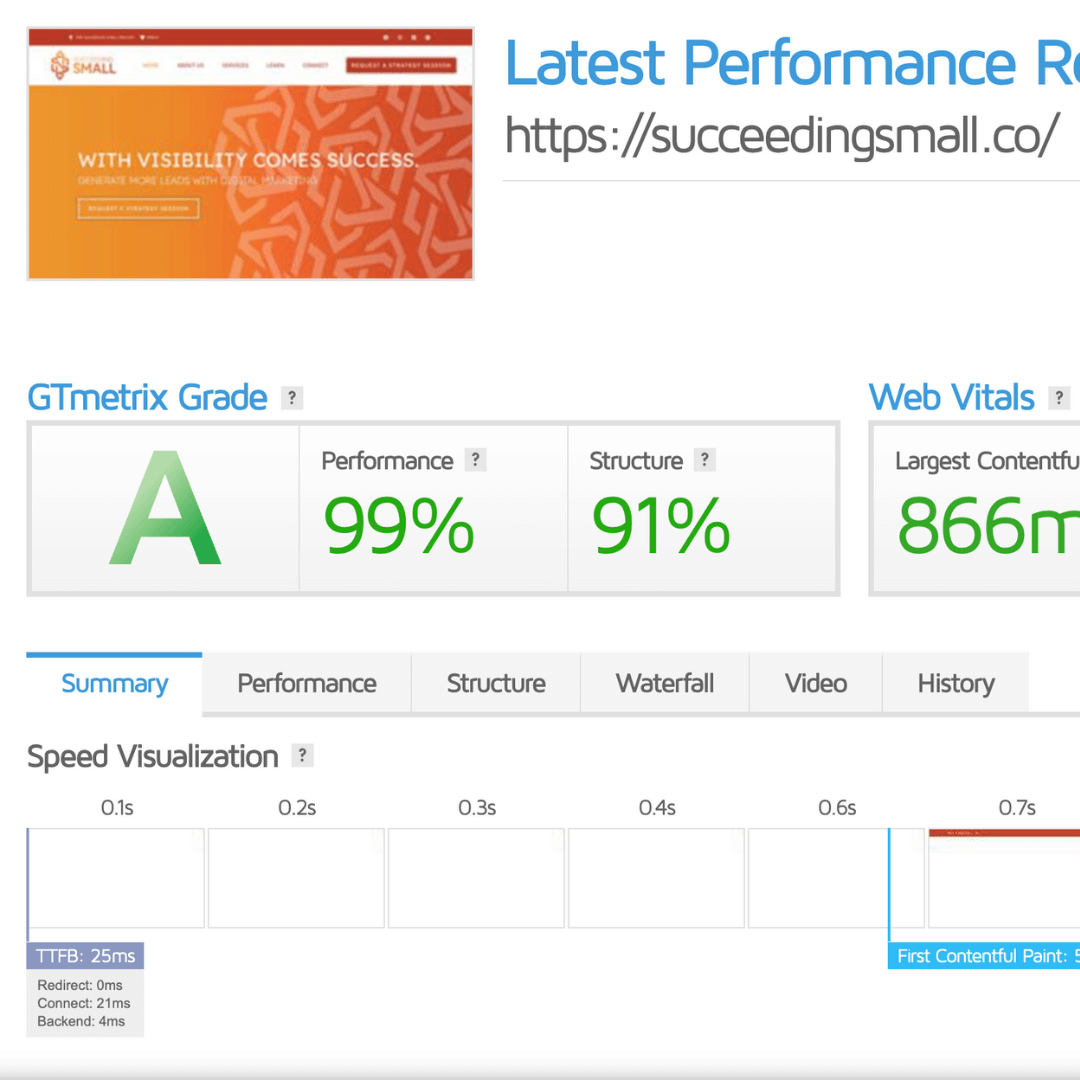 Other optimizations you can make to improve site speed include:
Compressing images and videos
Image and video size will, without a doubt, slow your site. Use smaller versions of media when you can without compromising on quality. TinyPNG and other compression tools can be helpful with this process!
Minifying HTML, CSS, and JS
Even with drag-and-drop website builders like Wix being more popular than ever, don't think your website's code doesn't matter anymore. Remember that Google crawls your site by reading your site's source code.
Therefore, make sure the code is clean, concise, and up-to-date. If Google can't follow the format of your page or has to sort through unnecessary code to find the value, your page ranking will suffer, and so will the load time.
Enabling browser caching
This is a simple way to improve website speed and user experience but often overlooked. Caching is essentially a process of storing websites people have already visited, meaning they don't have to reload the same information every time they visit your page. You can use a caching plugin to do this automatically, or you can manually configure your server.
Updating plugins regularly
Make sure you regularly check your plugins and themes for updates, as this is important for the speed and security of your website. Many plugins and themes have bugs, leading to slow loading times or other issues affecting your SEO.
Having a good hosting provider
When it comes to your hosting provider, you get what you pay for. A great hosting provider will ensure your website has fast load times and minimal downtime. Plus, a good host will have more bandwidth, meaning more people can access your website at once without it slowing down.
Using a content delivery network (CDN)
CDNs are great for caching and optimizing content delivery based on the user's location, meaning your website will always be fast regardless of where your users are.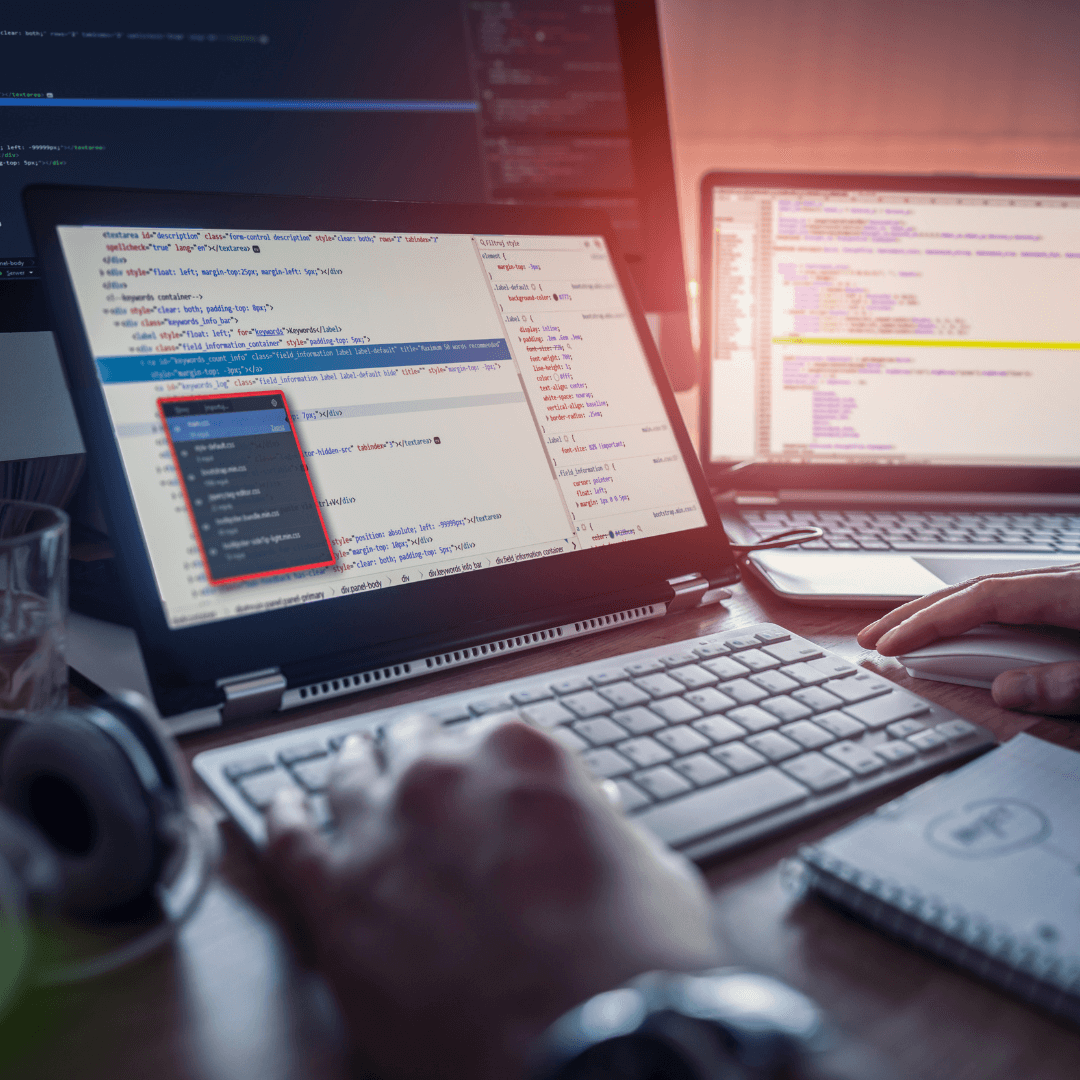 4. You have to do link building
Link building is an integral part of SEO and essential for home improvement companies. Links are essentially a vote of confidence for the content on your website.
The more quality backlinks your site has to authoritative websites, the higher you're likely to rank in search engines because Google believes these links are a sign of trustworthiness and credibility.
So how do you go about building up those coveted links? Here are a few tips to get you started:
Reach out to relevant sites in your industry for guest blogging opportunities.
Create content that is shareable and link-worthy, such as infographics or videos.
Participate in community forums like Reddit, Quora, etc.
Share content on social media platforms like Facebook, Twitter, or Instagram.
5. Make sure search engines can crawl your site
If search engines can't crawl your website, they won't be able to index it and show it in search results. Ensure that your robots.txt file is set up correctly and all of the essential pages on your website are visible.
You should also check if Google has already crawled and indexed certain pages on your site by using Google Search Console.
If there are pages that haven't been indexed, you'll want to make sure those are rectified. You can ask Google to index a page if it hasn't been indexed yet by using the Search Console.
Additionally, if you make any changes to your website, such as updating your homepage to be more SEO-friendly, reindex your pages. Google will eventually recrawl your pages for updates, but it may take some time, so manually requesting a reindex can help speed up the process.
6. Use internal linking too
Internal linking is an effective way to ensure search engines can easily crawl your website. It also helps users find the information they're looking for.
Ensure you link to relevant pages within your content and on essential pages like your homepage. You should also include anchor text (the clickable text in a hyperlink) that accurately describes the page being linked to; this will help with both user experience and SEO.
For example, on your homepage, you'll have many links leading to your services pages, your contact page, your about page, and maybe even your portfolio or costs page if you have one.
Then, continuing this example, your primary services pages will link out to your services, such as "kitchen remodeling," "basement refinishing," and "living room renovations."
Finally, make sure all of your internal links are working correctly by regularly checking them. There are several tools out there that can help you track your links, such as Semrush. Broken links not only create a bad user experience, but they can hurt your rankings as well.
If, for whatever reason, you have to delete or hide a page from your website, make sure you set up a redirect so that search engines and users will be directed to the correct page instead.
7. Claim your Google Business Profile
Having a Google Business Profile is an essential part of being visible online. Your Google Business Profile is free and is one of the most critical steps in helping potential customers to find your renovation company.
By claiming your profile, you can add important information about your business, such as contact details, the link to your website, opening hours, locations, images, and more.
It's also easy to set up. All you have to do is sign up with a Google account associated with the business.
Once you've completed the process, regularly update your profile so that potential customers get the latest information about what your company has to offer.
Additionally, encourage clients to leave reviews after you complete their project.
Reviews signal to Google that your home improvement company is authentic and trustworthy. Good reviews will help you rank higher in the search results and give potential customers an idea of what they can expect from your services.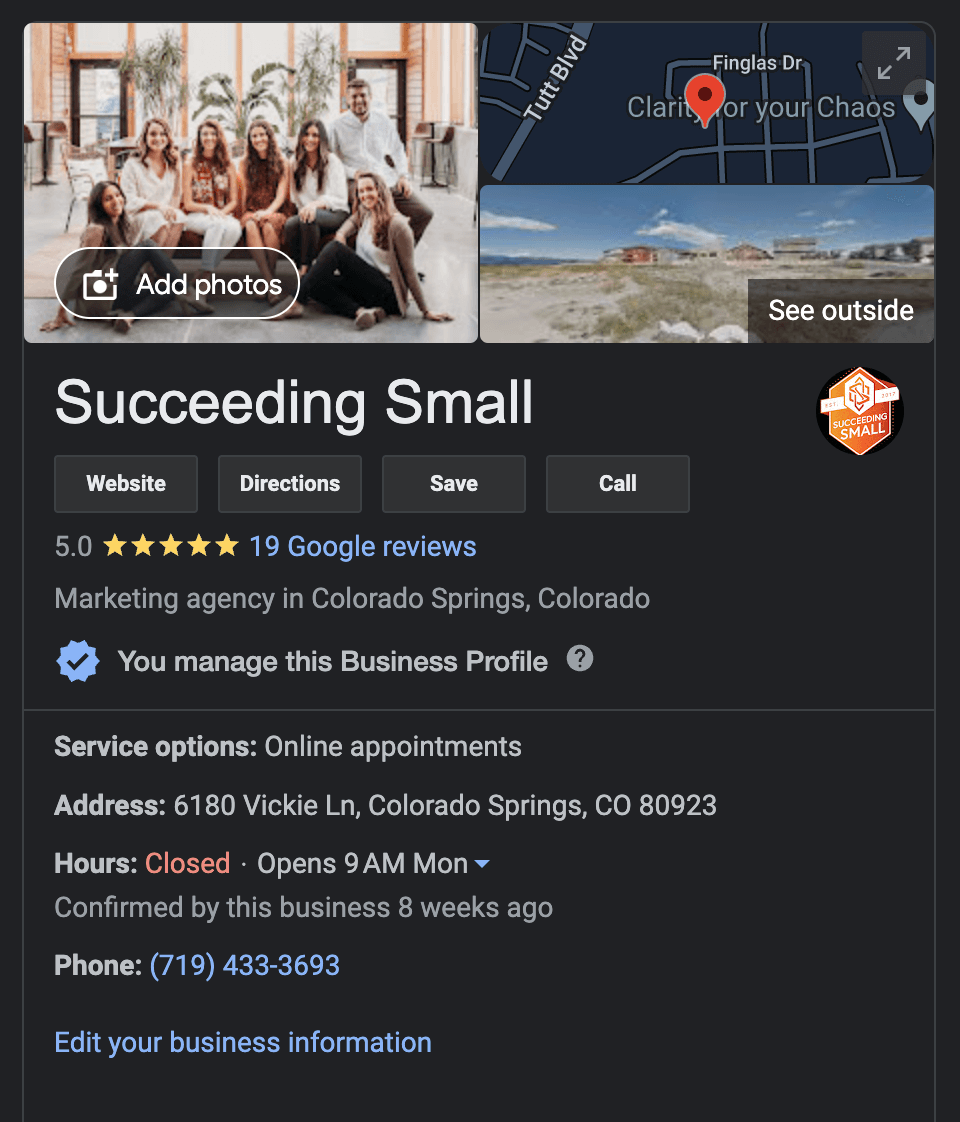 8. Utilize local SEO
In addition to optimizing your content for keywords, optimize for local SEO. Local SEO refers to optimizing a website and its content to appear at the top of search engines in organic listings when someone searches for local businesses related to home improvement services.
Local SEO involves things like claiming and optimizing your Google My Business profile, as we discussed above, creating a business listing on other local directories (such as Yelp or Angie's List), adding your showroom or office address to each page on your site, and more.
Another common SEO tactic for home improvement companies is to create local landing pages with content focused on specific cities or areas.
These local landing pages should include keyword-rich, detailed information about your services in the area — such as "Basement Refinishing Services for Colorado Springs Homeowners" — as well as images, reviews, and other helpful pieces of local content.
Additionally, make sure you have an up-to-date NAP (name, address, phone number) listed across the internet. Search engines use this information to determine the most relevant business for a local home improvement search query. If your NAP info isn't consistent, it can hurt your rankings because Google sees you as less trustworthy.
9. Curate a home improvement blog
Content marketing allows you to create helpful, relevant articles that showcase your expertise and engage readers. As more people become aware of your services through content promotion, they'll be more likely to reach out when they need renovation work done because you'll be top of mind.
Plus, creating a home improvement blog and updating it regularly with relevant content is an excellent way to add additional keywords to your site.
When deciding what topics to write about, consider what your target audience is searching on Google and other search engines. What is a topic you could offer practical advice on? Do your customers face common challenges in your industry? What's something you feel every client of yours should know?
Some examples of blog topics could include:
Steps to Choosing the Right Home Improvement Company
How Much Does It Cost to Renovate a Bathroom?
Tips For Planning a Kitchen Remodel
Common Mistakes to Avoid When Hiring a Home Improvement Company
You'll demonstrate your knowledge and expertise in the industry by creating valuable, helpful content. You'll also be able to showcase your work and show potential customers what you're capable of.
10. Promote your website wherever you can
Another tip for improving your SEO is to promote your website everywhere possible. This includes social media platforms, review sites, directories, and other channels allowing you to share business information.
Having an active presence on these sites will help improve visibility and possibly even create more backlinks, which signals to search engines that your content is trustworthy and authoritative.
Plus, the more people visit your website, the higher it will rank in search engines over time because Google sees your site as helpful to users.
You can also take advantage of paid advertising options like Google Ads to get instant visibility for specific queries related to home improvement services. Paid ads are an excellent way for home improvement companies to reach local customers who might not find them otherwise.
11. Monitor your results over time
Once you've put all the pieces in place, it's time to monitor your results.
Check your organic search rankings regularly and make adjustments to them as needed by optimizing old content. Take advantage of Google Analytics and other tools to track website traffic and user behavior on your site.
Plus, don't forget to monitor customer reviews on review websites to ensure your reputation remains positive. And keep an eye out for any algorithm changes so that you can stay ahead of the curve with SEO tactics.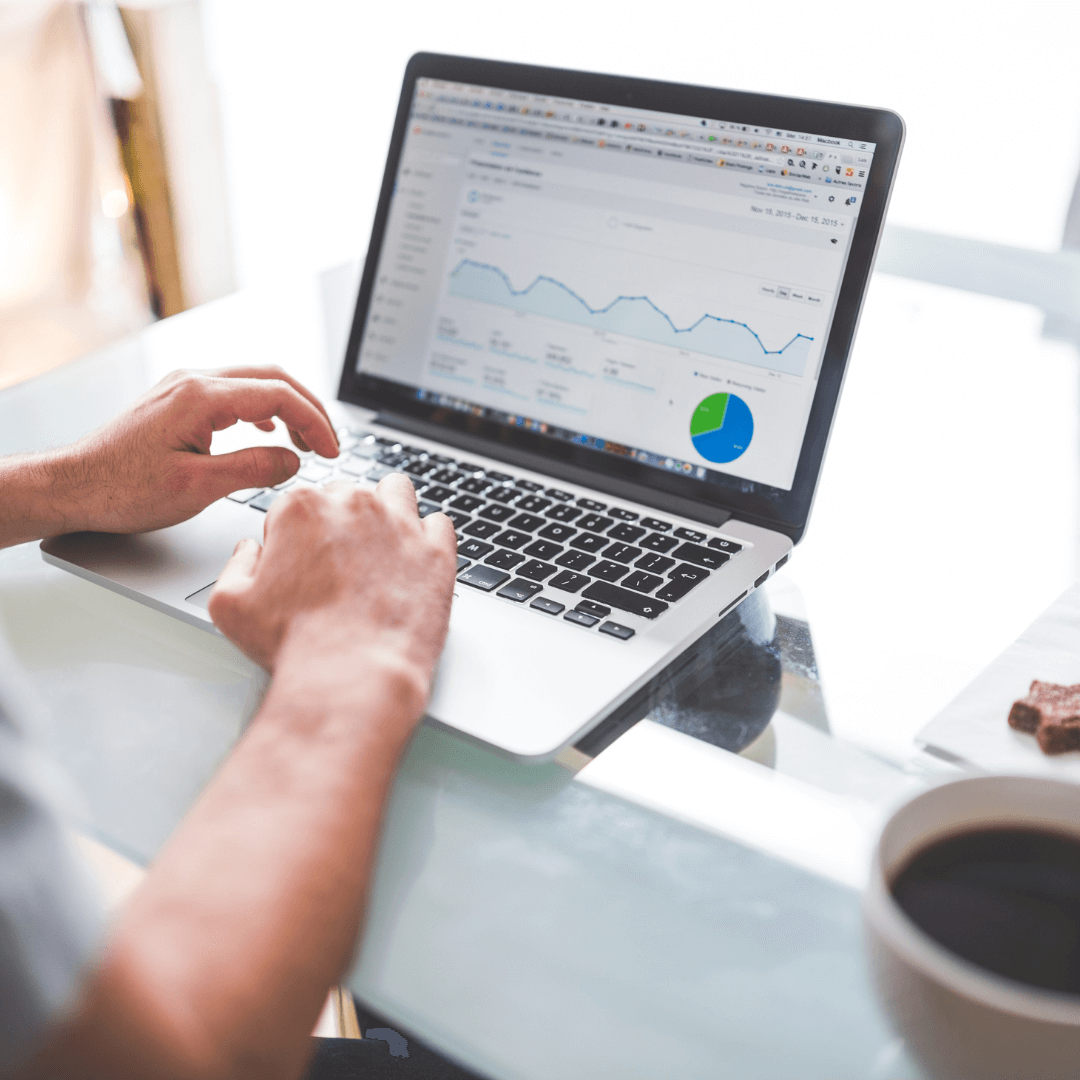 The Advantages of Home Improvement SEO
SEO can be a great tool for home improvement companies to reach local customers and maximize their online visibility.
By following the tips above, you'll be well on your way to improving your website's ranking in search engine results pages. But you may have some doubts. After all, SEO takes a lot of time and effort, and time is usually not a thing you have much of as a small business owner.
The good news is that SEO pays off in the long run and is FREE traffic. Unlike paid advertising, which you must keep paying for to get leads, SEO will give you an organic competitive edge over other home improvement companies in your area.
Other benefits of SEO for home improvement companies include:
Increase website visits
Generate more leads
Increase your ROI
Find Growth With a Home Improvement Marketing Agency
Ultimately, SEO can be a powerful tool for home improvement and construction companies to reach more customers and generate leads. By following the tips above — from creating valuable content to optimizing for local search — you'll be well on your way to achieving greater visibility and success in your local area.
If you're interested in exploring digital marketing for your home improvement company, Succeeding Small can help. We offer a full suite of SEO services for home improvement companies, and our team of experts has the knowledge and experience in your industry to take your small business to the next level. So are you ready to get leads and grow? Get started by scheduling a free consultation right now!